Want to play a fun drinking game?
Are you an alcoholic loner with no one to drink with?
Your troubles are over, drink along with Chris Miller as he toasts the top mass murderers in recent history. Keep up without killing yourself and you win.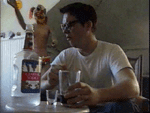 Starring: Chris Miller
Running Time: 9:25
Format: 8mm Color Video
Director: Chris Miller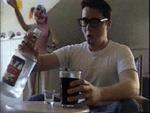 Notes from: Chris
"originally i wanted to call it 20 shots to death because not only am i toasting mass murderers body counts but i am seriously hurting myself with the sudden and massive intake of vodka. the footage was just something people would ask to see again and again and i kept having to que up the tape and plug in the camera everytime a new person came over. so i just decided to cut it out and throw on some titles.
yes i threw up soon after the tape ran out but not on purpose. and yes its all real. had i had more tape i would have kept going which may have been more fun because you would have got to see me puke on tape but as it is the tape is way too long at nine and a half minutes maybe its a good thing that i ran out. not to mention the fact that i was home alone and no one would have found me if i overdosed on alcohol.
the japanese band playing in the background is melt bannana, oh and yes i recited all those mass murder body counts from memory. so i'm a freak, so what!"